Wholesale machine weft custom color #T8/P18/613 C090
The reason why you choose our Organic hair factory:

If you want high-quality hair extensions;
If you want a beautiful color;
If you want your hair extension to last longer;
If you want to create your own brand;
If you are afraid of tangling or breaking your hair extension;
If you want different hair texture;
If you need perfect after-sales service;
If you want to receive the hair extensions as soon as possible;
If you need professional recommendations or advice;
If you have a small budget but quality requirements;
......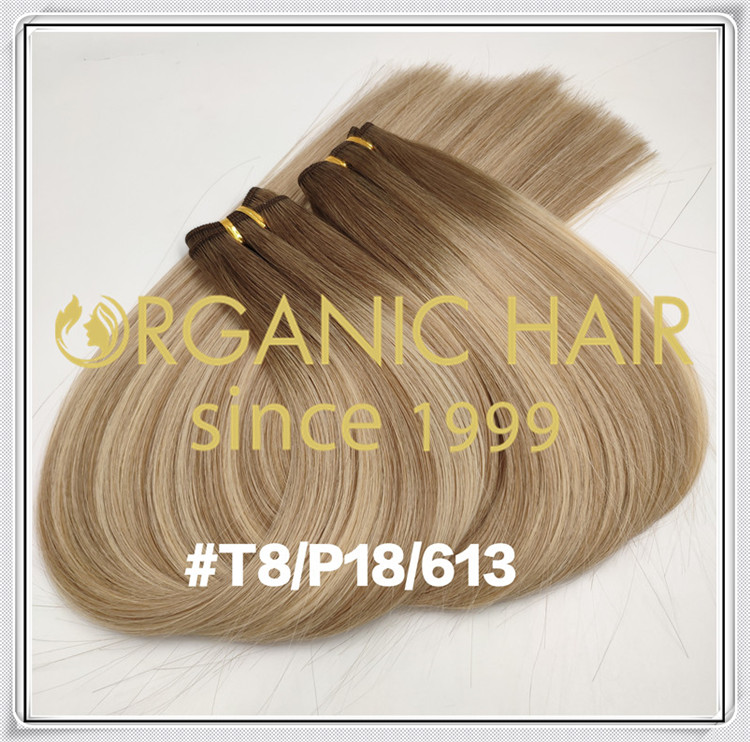 Organic machine weft hair extensions require no tape, glue or heat for application.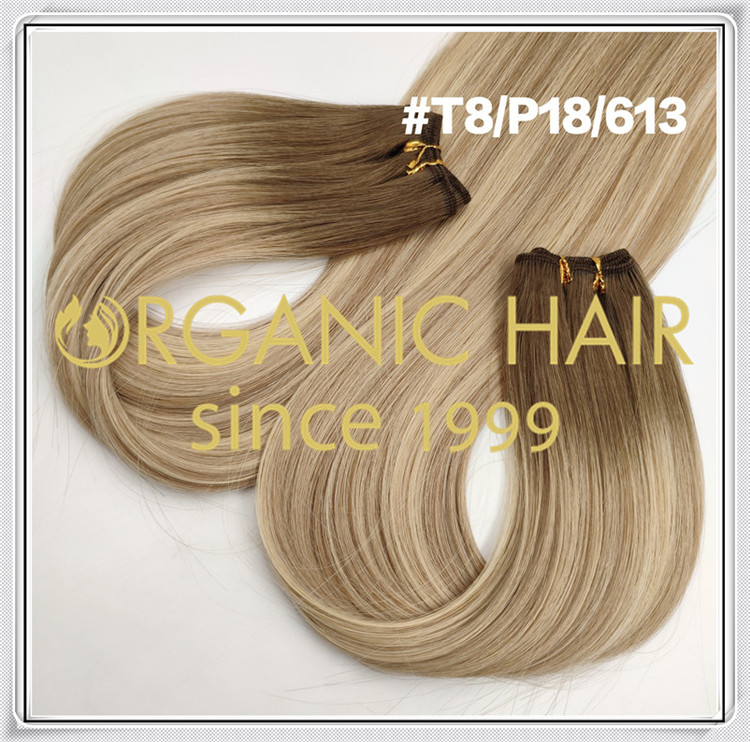 This is one continuous weft of hair that can be cut into smaller pieces to be customized for various head shapes.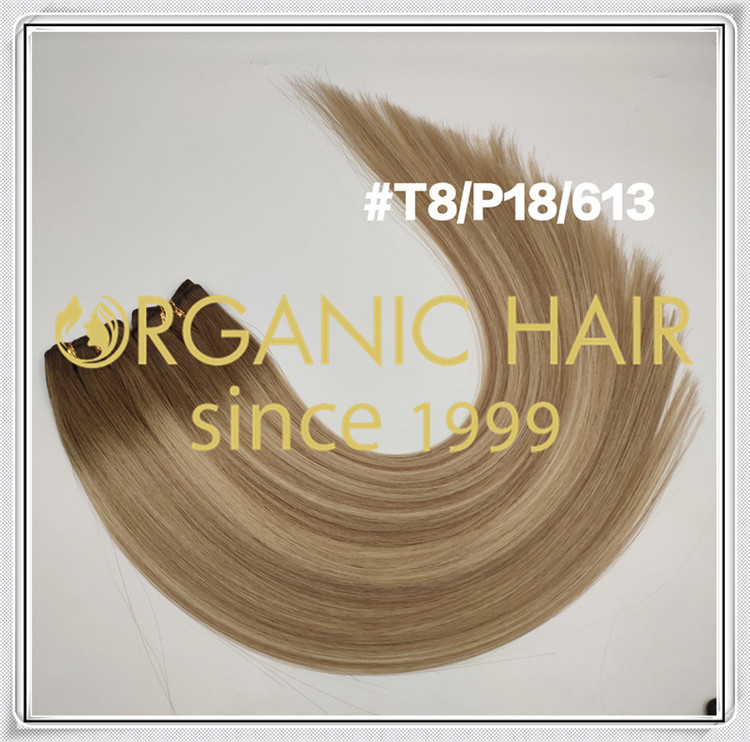 This is one of our hot hair extensions. Our hair extensions with professional production technology and perfect quality control system in the international market enjoy a high reputation.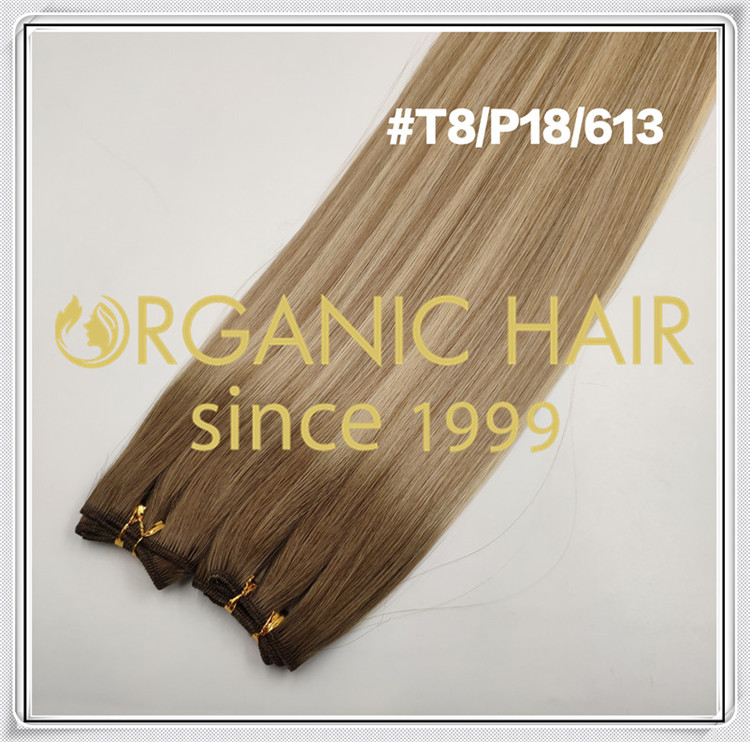 We can custom all kinds colors of what you want, like balayage color, piano color,ombre colors and so on.

MACHINE WEFT CAN BE CUT BY YOURSELF.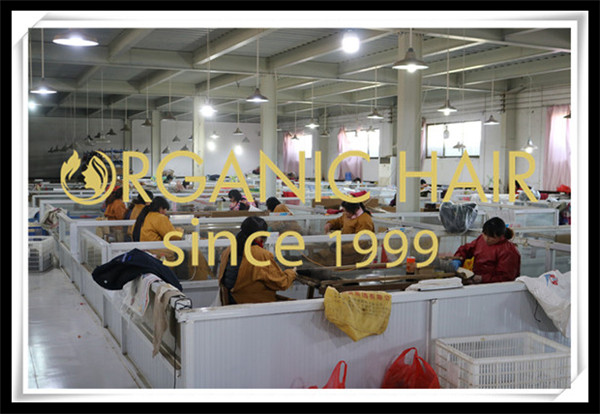 We, Organic hair factory, founded in 1999, are located in Qingdao, China.

We have been committed to providing customers with high-quality, multi-color, customized specifications, customized brand packaging hair

extension

and targeted, personalized services.

Up to now, we have customers all over the world, mainly in the USA,

Australia, Canada, the United Kingdom, Germany, Italy, the Netherlands,

Poland and so on.

And we always received excellent customer feedback.They think our hair

has a distinct advantage over hair on the market at the same price.

Our popular products this year include hand tied weft,tape in,I tip,PU skin

weft,flat weft,hybrid weft,machine weft,V tip,U tip,clip in, topper,wigs,etc.

On the basis of the original traditional process, we improved hand tied weft,

which surprised the customers.

Only under the premise of ensuring product quality, we can continuously

innovate to attract customers and expand the market, which is our goal and

the demand of customers.
About cooperation with you:
Our company regards reasonable price, efficient production time and good after-sales services as our tenet. We hope to cooperate with more customers for mutual development and benefits.

More than 20 years experience, we do only 100% human virgin remy hair from young lady, gentle treatment to ensure healthy product. We also accept the customized order and provide the factory price directly to you. We are the factory entity, from the entity founded, the quality assurance is what we are focusing on. Curly holding after washing, could be flat iron and restyle. Durable hair, strong and resilient, good texture can keep long time.

We do bulk orders for hair wholesalers, distributors, salons, beauty bars...

Wholesale price could be offered accordingly.



The hand tied weft stock prepared for you today:



#60,#60A,#1B,#1,#10,#12,#613,#30,#8,#27,#22,#33,#18,#T6/P613/18,#T8/18,#4,#P18/60,#P18/22,#P8/613,#P2/silver,#P6/14
If you want to test our hair quality but don't have the patience to wait, this will be your best choice.
Besides, our other hair extension methods are also very popular:
Hand tied weft:https://www.organichairextension.com/Best-quality--99J-Organic-hair-weft-C081_3722.html
Flat weft:https://www.organichairextension.com/White-blonde--60A-seamless-weft-hair-weft-C058_3553.html
Hybrid weft:https://www.organichairextension.com/Popular-piano-color-18-22-flat-weft-full-cuticle-hair-extensions-CNY001_3207.html
Hair bulk:https://www.organichairextension.com/Human-hair-100--hair-bulk-wholesale-C029_3455.html
PU skin weft:https://www.organichairextension.com/Ombre-color-pu-skin-weft-popular-extensions-CNY040_3344.html
Machine weft:https://www.organichairextension.com/Custom-machine-weft-made-from-solid-colors--10---613-and--16--C086_3746.html
Tape in:https://www.organichairextension.com/Different-colors-of-tape-in-hair-extensions-C062_3564.html
Clip in:https://www.organichairextension.com/-P4-60-PU-clip-in-hair-extensions-C060_3562.html
I tip:https://www.organichairextension.com/Wholesale-I-tip-hair-extensions-C077_3648.html
V tip:https://www.organichairextension.com/Balayage-color-natural-wave-V-tip-hair-extensions-C064_3573.html
U tip:https://www.organichairextension.com/Wholesale-hair-extensions-supplier-C076_3647.html
Flat tip:https://www.organichairextension.com/Flat-tip-pre-bonded-full-cuticle-hair-extensions-CNY027_3328.html
Nano ring:https://www.organichairextension.com/Balayage-color-body-wave-nano-ring-C066_3577.html
Halo hair:https://www.organichairextension.com/Halo-hair-extensions--613-color-C070_3588.html
Contact us and let us begin the journey! Come on!
Name: Candy
Email:sales05@organichairextension.com
WhatsApp:+86 15735178762 (24 hrs online)
Instagram: chenting4220