Organic Mink Eyelashes are made with 100% authentic siberian mink hair that are hand comb and hand assembled to ensure quality and durability in every lash. Price is higher,qaulity is High-end. Wholesale lashes,Mink 3D eyelashes, Mink 3D eyelashes vendor.

Organic is 3D Invisible Band Naked Mink Fur Lashes factory directly sale. All our 3D Invisible Band Naked Mink Fur Lashes are Made with new technic, cotton band is very thin and soft, More Nautural.We only select top quality Mink fur from siberian or Canadian ,it is more natrual glossy and vitality. We accept ODM/OEM service for our clients. We can make any style private label packaging as custom description or custom picture, we can make sample in 3-5 days. We have some unique style in the world, only our factory can make them, now we have over 200 styles , and design new styles every week, we also can copy any styles as customer's sample.Super fast delivery about 20 days for 10,000 pairs.
MOQ: 10pairs/ style for Trail order, 50pairs /style for Formal order.
Sample: we can supply 3 pairs free sample to test quality, charge shiping cost.
OEM service : make any style private label package with your logo, we have many fashion unique style tray and boxes.
Please do not hesitate to contact us for eyelashes wholesale and private label designing and packing services, we can provide one-stop-shop for all of your Lashes needs.
Our Factory new design double eyelashes 3d mink lashes with private label are made with 100% genuine mink fur that are hand comb and hand assembled to ensure quality and durability in every lash. This is our newest products "3D styles" we can make 3D styles with all of our Luxury mink fur styles.

Our best 3D Mink Lashes Naked Band Mink Eyelashes are With the 100% Siberian Mink at the best age from free-range zoos and recycled during the shedding seasons, Lashes. By utilizing top grade of mink fur, our 3D mink lashes are tipped and elegant, yet soft and subtle. We offer voluminous, lengthening, crisscross and durable mink fur lashes that is appropriate and essential for every occasion.
Organic 3D Mink lashes factory directly sale eyelashes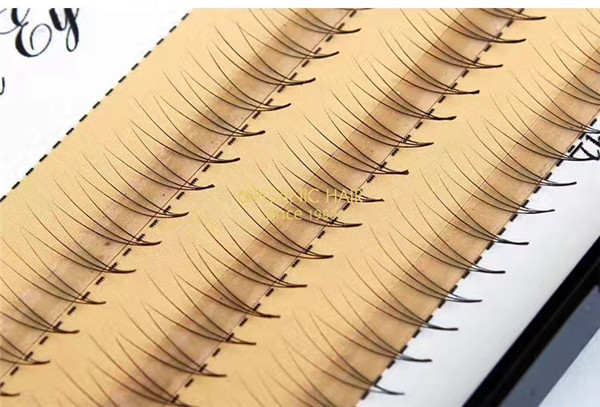 FAQ

1. What is Eyelash growth?

Eyelash growth solution is a cosmeceutical for hypotrichosis used to grow eyelashes, making them longer, thicker and darker. The solution contains natural plant extracts.

2. What is hypotrichosis of the eyelashes?

Hypotrichosis is another name for having inadequate or not enough eyelashes.

3. How do I apply Eyelash growth?

you apply to the base of the eyelashes 2 to 3 times per day.

4. How soon will I see results?

Eyelash growth users may see results starting at 3-4 weeks, with full results at 12 to 16 weeks. The growth is gradual.

5. Is Eyelash growth a replacement for mascara?

No, Eyelash growth does not work in place of mascara. Eyelash growth is a treatment for inadequate or not enough lashes. However, mascara can be used on your eyelashes in addition to Eyelash growth.

6. Is Eyelash growth different from prescription products that indicate eyelash growth?

Eyelash growth solution is the completely natural formulation for inadequate eyelashes or not having enough eyelashes. It has been proven to grow longer, fuller and darker lashes. Due to its plant formulation, it has little side effect and contraindication.

7. What if I forget to apply one night? Or a few nights?

If you miss an application or a few, don't try to catch up. Just apply the Eyelash growth the next evening and stay on schedule.

8. What happens if I stop using Eyelash growth?

If you stop using Eyelash growth, your eyelashes are expected to return to their previous appearance over several weeks to months.


Organic Factory:

Organic is a professional supplier which specialized in eyelashes products for nearly 10 years, human hair products for nearly 18 years,is recognized as one of the best quality Eyelash Extensions, mink eyelashes,false eyelashes,bottom eyelashes /under eyelashes,fox eyelashes,lace eyelashes,colored eyelashes,mink eyelash extensions,3d lashes,horse eyelashes,human hair eyelashes,feather eyelashes,false eyelashes for japanese market,synthetic hair eyelashes,paper eyelashesand and false eyelashes manufacturer and supplier in this field. Skilled Mid-aged Workers are the fortune of the factory.

With extensive experience as a leader of Manufacturer & Exporter of False eyelashes,organic lashes factory have built up the knowledge, R&D team and QC team needed to specify products that meets not only for importer, distributor but also famous brand,even most specific of client or Middest East & Japan requirements. We pride ourselves on our ability to keep the stable quality and professional service.With more than 10 years' manufacturing experiences, we have exported all kinds of eyelashes to Europe, USA, Korea, Australia, Canada, etc. We can supply the high-quality lashes with lowest prices to wholesalers around the world. As to the styles, we mainly supply mink eyelash extension real mink fur eyelash extension,3d eyelash extensions,luxury mink fur eyelashes, 3d mink fur eyelashes , Horse hair lashes, fox fur eyelashes, human hair eyelashes ,handmade false eyelashes,and individual eyelashes like flare eyelashes, Y-lashes and W-lashes. These lashes can be packaged with your own private logo and brand name. We also can duplicate the lashes based on your samples. We sincerely hope to serve all the customers who are interested in our lash products.

Private Label:
OEM & ODM service to worldwide customers, provide the whole solutions for package and private label design.
Rich experience of international management:
Started the oversea sales of eyelash products when business beginning, having rich experience of foreign trade. Served famed brand of Euro & North America for years.
Good Quality Control:
Experienced in-house QC and QA Department to ensure product quality. whole QC procedures and system in product line.
Good Cost Control:
Control the efficient and high-quality sourcing networks. Good cost control in whole supply chain.
Fast action, accuracy and on time delivery:
Quick response, feedback your concern in 24 hours. Professional technician and skilled workers make sure delivery date on time.