REASONS WHY TAPE IN hair ARE THE BEST CHOSE FOR HAIR EXTENSION
Hair extensions make you more attractive than ever before. The expended volume and natural color options gives you an undeniable confidence. There are so many types of hair extensions and adding in extra hair will not take you much time. When it comes to hair extensions, the options are very personal. Here we highlight one of the most requested in hair salons worldwide-the tape in hair extensions.
Tape in hair extension,Cheap Brazilian hair, tape in hair extensions in uk are well-known for being high-maintenance. It hardly be distinguished from your natural head of hair. You will feel comfortable with its bonds tie that completely flat against the head by using our Italy (1*4) white tape or American blue tape. Make sure you wear 100% human cuticle hair that match your hair density, texture, thickness and color pulling off a seamless look. Technically, the remy hair extension preserves the hair cuticle in tact and facing in the same direction. The high quality tape in hair extension allow you style, dry and iron the extensions just like your natural hair without fear of excessive tangles and matting.
Organic hair factory Tape in hair extensions with remy hair for high end white lady market, it is great lengths hair extensions. Our Tape in hair extensions no damage hair sell well in USA UK AU EU hair salon, big hair company and hair shop.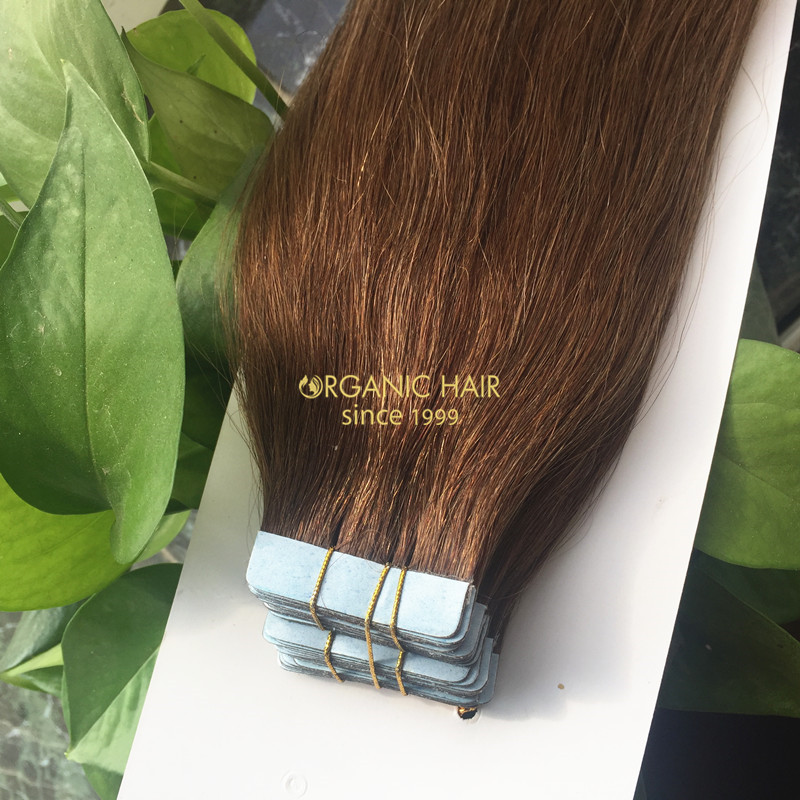 We collect the virgin remy raw hair material hair bulk from Brazilian, Russian, Indian and Peruvian.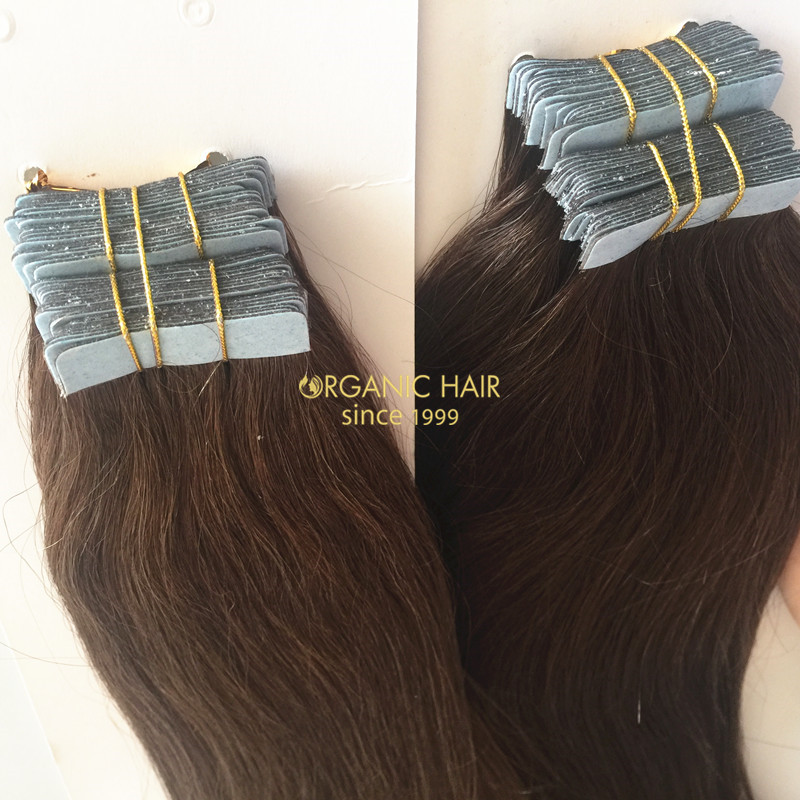 The hair material all natural hair cut from girl head diretly, no any processed, no any mix.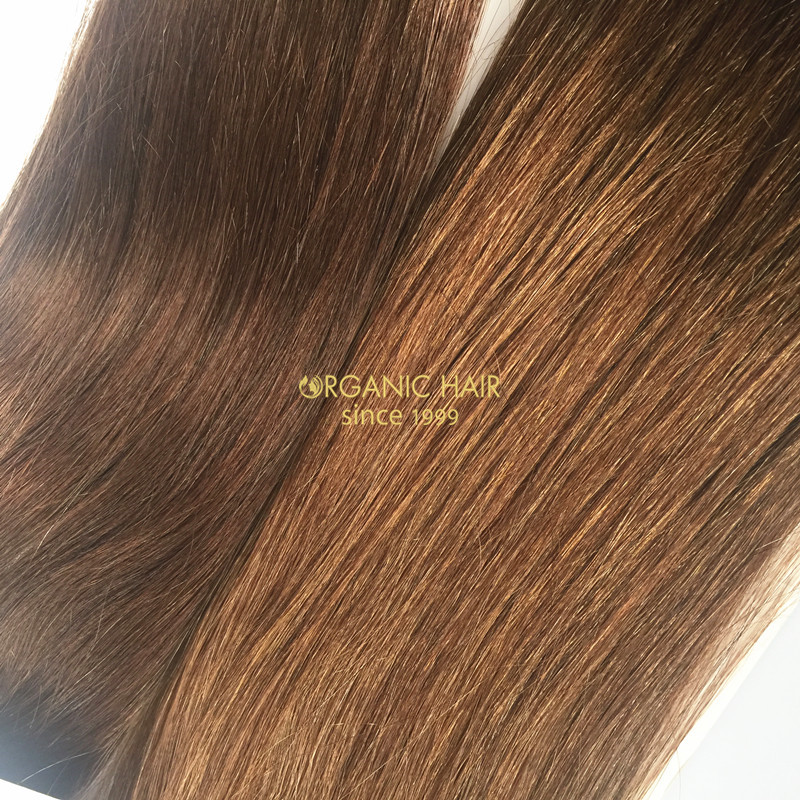 100 real human hair bulk. Very clean and have nice smell.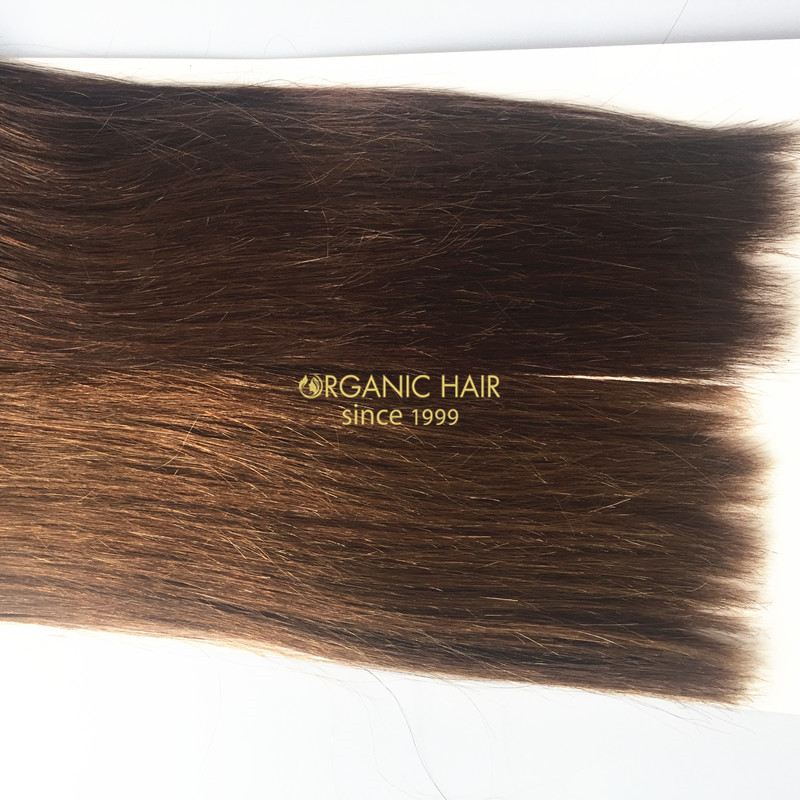 Real human hair extensions is not too much and we only supply our client the best.
Product : Tape in hair extensions with remy hair
Material: 100 high quality one donor healthy human hair double drawn
Life Time: 12-24 months with normal application
Payment : Western Union, Money Gram, Paypal,T/T
Top 5 reasons choosing tape in hair extension.
Cost: Tape in hair extensions is a cost effective method to rich your hair compared with any other semi-permanent hair extension. Hair stylist only need less than one hour to apply for you. The maintenance cost in terms of tape in hair extensions are much comparatively less than any other extension method. The cost of hair for tape in hair extensions are exact same for a good set of clip, and tape in hairs are much cheaper than the cost for micro bead/i link hair extensions. The construction of the tape ins are 4cm panels of hair which is personally customized for your demand over individual extensions. In brief, tape in hair extensions are economic way to wave a isomerism chord.
Easy maintenance: if you bothered with wear and detach everyday with hair extension, tape in extensions matched with our waterproof white tape avoid you with this process. Mostly, people who wearing tape in extensions forget that they are on as you can wash the tape in hairs normally with your own hair, until about 8-12 weeks when its time to move them up. That is another reason you are recommended to choose a remy tape extensions, which they competently last long enough for regularly tape maintenance.
Least damaging: tape in extensions are the least damaging for your own hair. The lighweight and way of wearing would not pull on your own hair. Especially if you have fine hair, tape ins would better choice than traditional clip ins or any other extensions like fusion, micro, i-tap etc.You do not worry about extension of tape in hair cause you to lose hair. Also, tape in hairs are very easy to remove without damage our hair or causing any discomfort.
Reusable: the life of tape in extensions can be up to a year, which are good for 3-4 applications. You will be flexible with your hair style during you using tape ins as they are easy to be customized with a cut or dye. A new tape is available to be replaced after you remove and clean. You usually replace your tape within a matter of 2-3 months. A good quality tape extensions are resusable which makes it worh keeping. Individual extensions are not reusable and clip extensions tend to get worn out within a matter of 6 months. Resuing extensions is rewarding especially when you pay to have them cut or colored etc. It only takes you 15 minutes to replace your tape ins whereas the removal of individual extensions can be hours (you do not want face with hair loss and hair pulling as well).
Invisible and Flexible: the method of wearing are flexible. You can wear them in your own style like super high ponytails, braids etc. The tapes are thin enough that invisible by covering by your own hair. You will not feel them when you brush over your hair or wash them. The individual extensions are stringy and not as soft as tape extensions when it comes to washing and brushing. If you want life-like extensions, tape in hair extensions are your best choice.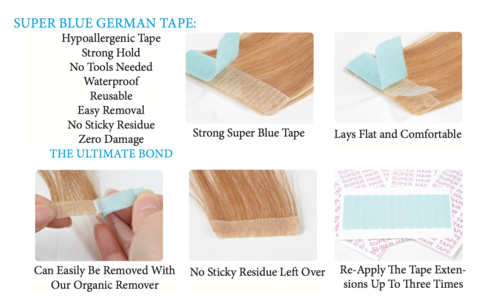 Tape in hair extensions are the bestseller on the market. They are high reputable among celebrities and fashion icons. If you are new to extensions or looking for switch from clips or individual extensions, tape in extensions is right for you. Just get high quality tape extensions and have them applied by a trained professional, you will not regret.
If you want to know more about our hair extensions, please click :
Halo Hair Flip In Hair Extensions
Contact us to get more info from us !
Mail : Sales02@organichairextension.com
Whatsapp/Tel : +86-13210017159
Instgram : organichairextension